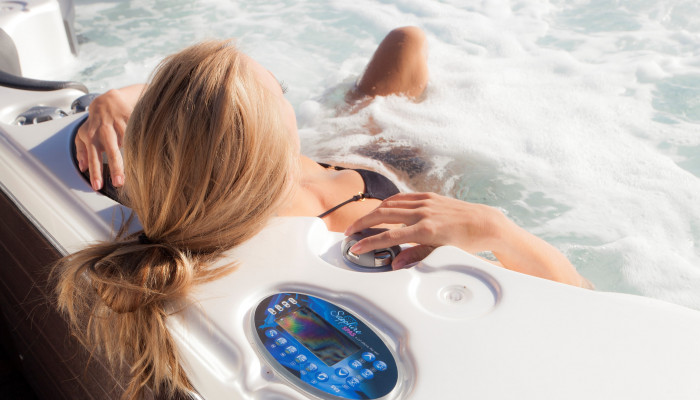 Owning a swim spa is one of the best decisions you could make in your life. Its something you can use all year round in the comfort of your own backyard. You can even use it for social activities by sharing it with your friends and family. One of the best things about owning a swim spa is all the potentialhealth benefits that come with using it. After owning a swim spa youll wonder how you lived without it for all this time. At mySpa Sydney we have swim spas for a range of purposes and occasions.
Here are the top 16 benefits of owning a swim spa.
1. Relaxation
A swim spa provides you the ultimate relaxation in the comfort of your own home. Whether youre heading home after a long day at work, playing sports or just need some personal time to yourself - enter relaxation mode by getting into your swim spa. The best part is theres no need to go anywhere, get a membership or check opening times. You get to give your body time to relax whenever you want.
Using your swim spa will help relieve tension in your muscles and make you feel energised. You can use the swim spa as a mini swimming pool and spa at the same time. You have control over the jets in the spa area which allow you to sit back after your swim and relax in the warm water. Whether you want quiet time by yourself or with your loved ones, theres enough space for everyone to enjoy the benefits of the swim spa.
2. Water therapy
One of the main benefits of a swim spa is water therapy. It may help you
achieve your fitness goals
by providing muscle relaxation, improving blood circulation, helping you burn calories and massaging sore muscles. It may also provide relief from conditions and illnesses such as arthritis and fibromyalgia. The water helps relax the body by taking the pressure off your bones and joints, this provides freer movement and support for your body.
You can also build strength and resistance by swimming against the water pressure. Stretching and exercising in the water of your swim spa can help reduce pain due to the low impact involved. Additionally, it can often help relieve stress by creating a relaxing warm water experience for someone dealing with chronic pain. Water also allows you to do a variety of exercises that may be difficult on land. Using a swim spa will help you practice movements in the pool as well as become stronger and confident in your body.
3. Manage health conditions
Using a swim spa has sometimes been found to be beneficial for many types of health conditions. Traditional physical therapy at times doesnt work to manage some conditions. For example, hydrotherapy has been used to
manage Parkinsons
, a disorder of the nervous system. Its becoming a common technique to use for
rehab purposes
and now it can be done in the comfort of your home if you own a swim spa. The water acts as a support, making it easier to balance your body as you exercise in the swim spa. The warm water loosens joints and muscles.
Swim spas also allow you to change the currents which means people with a range of fitness levels can use it for whatever purpose they like, from athletic workouts to rehab
exercises
. Using a swim spa can also benefit those with neuromuscular conditions. It can benefit in this situation as it helps treat nerve and muscle conditions by focusing on improving mobility and symptoms.
4. Entertainment
One benefit of owning a swim spa is you have access to it whenever you want without having to go anywhere. This also means you have endless entertainment opportunities. No need to head to a public swimming pool or limit yourself to how long you can stay. All swim spas are family-friendly and perfect for entertaining. This gives you the opportunity to enjoy your swim spa whenever you want, with a loved one, your children or even invite some friends over. You can even add
accessories
to your swim spa to make the most use of this feature of your backyard.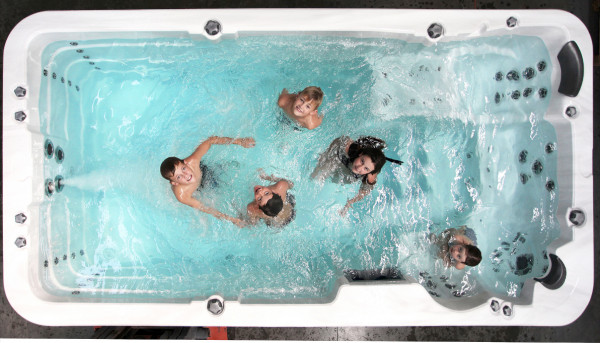 5. Socialisation
If you and your partner are the only ones going to be using the swim spa you can go for the
myswimgym
which can hold 3 people at a time. If youre looking for fun for the whole family and more room to swim the
mylapswim
option might be for you. This one holds up to 12 people at a time. Either way, a swim spa is perfect to get some quality time in with those special people in your life. Grab some drinks, sit back, enjoy each others company in this phone-free zone.
6. Family time
If you have children a benefit of owning a swim spa is that
they can use it too
. Its safe and secure, theres enough space for you to relax in the spa end while they play in the pool area. The force of the jets is adjustable which means if your children are learning to swim they can comfortably enjoy the swim spa. If your children are more experienced in using pools you can adjust the jets to their ability for them to make the most use of it as well. Grab your family, jump in, and catch up over how everyones day at work or school went.
7. Exercise
Private exercise space for you right at home is one of the key benefits of owning a swim spa. You can adjust your fitness level according to how youre feeling each day and after your workout in the pool you can cool down by using the spa area. The best part is youre in control. You dont have to go anywhere, use anyone elses equipment and its all at your own convenience. Start and finish any time you want. You can use the swim spa to do cardio, weighted workouts, aerobics and yoga. The opportunities are endless. Getting fit in your own home never looked easier. As your body gets used to the currents, youll see your fitness and endurance increasing in no time. It also benefits your heart as it serves as a cardiovascular workout. Itll strengthen your heart muscles, and improving the delivery of oxygen across your body.
8. Senior well-being
Swim spas can be very beneficial for seniors. With age comes muscle tension, joint and health problems. Swim spas can sometimes be used to help retain muscle strength and decrease joint/back pain.
9. Mental health
Using a swim spa helps you enter a no-technology zone, turn off everything that you have going on in the outside world and your only purpose is to focus on living in the moment. This is something that can be difficult to do at a gym or public pool where there are so many other things going on. By owning a swim spa you eliminate all these distractions and are able to focus on your own thoughts. When using a swim spa youre likely more able to pay attention to your mind and body without any interruptions, theres just you and the water.
10. Mitigate symptoms
The water makes it easier for you to move without putting unnecessary pressure on your body. This helps increase your body confidence and the more you use your swim spa the more you may be able to mitigate symptoms such as muscle spasms, body pain, imbalance, and stress. Some swim spas can have built-in stairs or chair lifts to help you make the most of your swim spa experience. You can even add underwater cameras to help you look at your form and improve it the next time you get in.
11. Use all year
Unlike swimming pools, a swim spa is something you can use all year round without the weather getting in your way. The water in a swim spa can be heated therefore you can use it with hot water all year round. Even when public pools are closed, your swim spa will always be there by your side providing you hydrotherapy, relaxation and family time whenever you need it. Additionally, a swim spa is insulated which helps maximize efficiency and keep your power bills affordable.
12. Minimal maintenance
When it comes to
maintenance
, owning a swim spa is beneficial as theres minimal maintenance required. You may need to check everything is working how its supposed to be every 3 to 4 months, this includes checking the pH levels and alkalinity. Minimal cleaning is required as they use quality filtration systems. The filter system is built-in and the swim spa should stay covered when not in use. This helps protect the water from outside elements entering, therefore reducing maintenance costs in the water chemistry area. Swim spas are also cheaper to operate than a full-size swimming pool.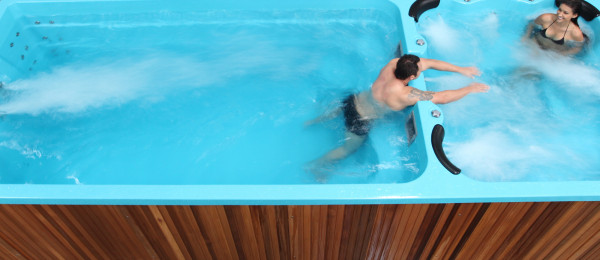 13. Flexible
You get to decide where you want the swim spa to be placed. Since a swim spa is not something that is permanently being installed into the ground like a swimming pool if you want to move it anytime you can because its portable. This flexibility also makes it easy for you to take the swim spa with you if you end up moving house. The water temperature of your swim spa is also flexible and the jets are controlled by you.
14. Quick installation
Swim spas can be installed either in-ground or above ground or on a deck. They can be
easily craned onto your property
, with the total process taking only a few hours. At my Spa Sydney we can help you sort out everything from delivery to installation. There is no month long construction process required which comes with full-size swimming pools. This means you still have full control of your backyard and where you place the swim spa without a lot of outside interference and people continuously coming to your house to install. Installing a swim spa is fast and easy, giving you more time to relax and enjoy the new addition to your home.
15. Affordable
Compared to installing a full-size swimming pool and adding a separate spa pool, a swim spa is the
more affordable option
. Installing a full-size pool can end up costing double in terms of time and money compared to a swim spa with all the installation and manpower associated with it. You can also add all the features found on a full-size swimming pool, such as waterfalls, LED lighting and water fountains.
16. Feature for your house
A swim spa is an added feature that makes your backyard stand out. It serves the purpose of a spa and swimming pool while still leaving you space in your backyard for the children to play around. A swim spa will add value to your house and garden. Itll also create great atmosphere when friends and family come over to visit. Everyone will be wanting to hop in. A benefit of owning a swim spa will be your backyard coming to life and the swim spa becoming the heart of your home.
A swim spa gives you all the benefits of a regular spa along with the perks of a swimming pool. A swim spa is your personal aquatic gym and relaxation station in the privacy of your home. It also turns into fun for the whole family with space for children to swim and play while you enjoy the therapeutic aspects of the spa. It is easy to move and maintain, something you can use 365 days a year.
Come test out a spa for yourself! We have a private area with a changing room and shower where you can 'wet test' to help you find the right spa for you and your family. We have over 15 years experience and take full responsibility for getting the spa from our store to your backdoor.