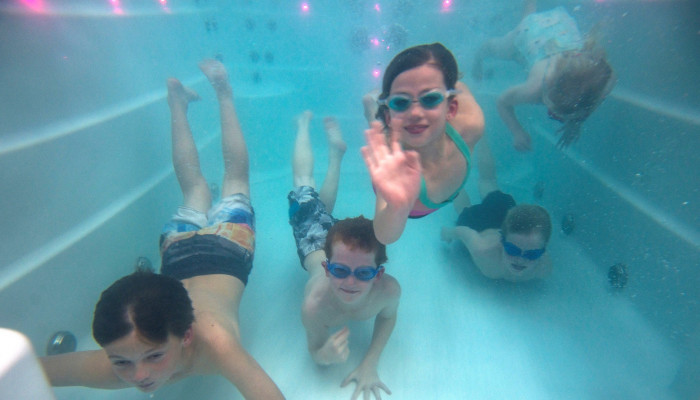 Almost every kid dreams of being able to swim in their own backyard. Making this a reality isn't always easy. With the massive costs and many requirements associated with a traditional swimming pool, having a private swim spot may not seem possible.
What is a swim spa?
A swim spa combines the best of both worlds when it comes to relaxing and swimming. It's similar to a spa pool but bigger and more versatile. In addition to providing a relaxing soak, its jetting system allows you to swim against a current continuously. Having such a system means that you can swim as much as you want without having to make any turns or worry about hitting the wall.
Swim spas are great for kids
With its versatile nature, a swim spa will be enjoyed by the entire family especially your kids. The list below identifies the various ways that a swim spa can be beneficial for children.
Teaching your child to swim
Whether you have a two-year-old, a teenager, or a bunch of kids in-between, swim spas provide an ideal safe environment for teaching your kids to swim. Rather than being surrounded by strangers, your swim spa allows for a private and secure environment.
Owning a swim spa also means you'll have control over the temperature of the water so that you can adjust it to suit the needs of your child. According to many experts, the ideal water temperature for children and toddlers is between 28 and 30 degrees Celsius. Keeping your spa much hotter than that will increase the chances of dehydration and overheating.
Getting your child comfortable with the water
Children generally can't start swimming lessons until they're three years old. Before then, they'll benefit from getting used to the water. Young children will enjoy being bobbed up and down, while older children will likely want to play water games such as tossing a ball.
Once your child reaches 3-years old, you can start getting them to float in the swim spa and enjoy being semi-submerged in the water. Older kids will also benefit from familiarising themselves with a 'current' when you turn up the jets.
Relaxing while your kids play
Although it's smaller than a traditional pool, a swim spa provides the perfect amount of space for you to relax while your kids play. Instead of getting mixed up in their water games, you can have space to relax while still being close enough to supervise.
Spending quality time with your kids
You can't beat a family soak or swim, especially when it's in the comfort of your backyard. From a summertime dip to a winter evening warm-up, you'll find that many great memories will be made in your swim spa.
Swim spas are safe for kids
Swim spas certainly have many benefits for kids, but its essential always to implement water safety precautions when using them. Such safety considerations include the following.
Supervising your child
Just like with any form of water, you must always supervise your kids when they're in a swim spa. For children under 5-years-old, this supervision will generally involve you being in the water with them. Nonetheless, with any child, it pays to have a designated to ensure that at least one adult at all times is responsible for monitoring them.
Keep your children hydrated
When your kids are using a swim spa, it's essential to make sure they're staying hydrated. If the water is relatively warm, it's critical that your child is drinking water while in the swim spa to avoid dehydration. Such precautions are the same for adults.
Be mindful of the length of their swim
Dependent on the child's age and the temperature of the water, the length of their swim may vary. Typically, it's best for children not to be in the water for longer than 20 minutes. This duration may decrease for younger kids.
Install child-resistant barriers
Cover your swim spa
In addition to a barrier, a swim spa cover will also help to prevent the possibility of a child entering a swim spa on their own. Having a cover is also a vital way of keeping in the water's heat.
We hope this article has helped you to realise the many ways that a swim spa can benefit your child. If you have any questions or are interested in buying a swim spa, don't hesitate to call us on 02 8850 6550 or see us in-store at Unit 4-10, Hudson Ave, Castle Hill, Sydney.