What Costs are Involved When Installing a Swim Spa?
24 Jun, 2019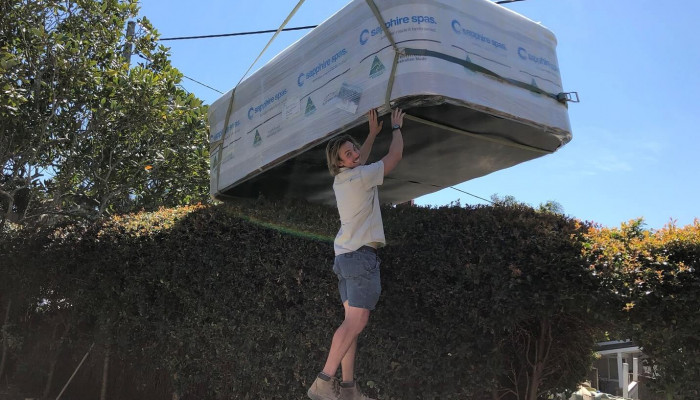 By investing in a swim spa, you can enjoy the luxury of a heated spa pool while having the freedom to swim in the privacy of your own home. Although this purchase is an exciting process with many benefits, it's essential that you are aware of the costs beyond the initial price tag before making a decision.
What is the initial cost of a swim spa?
The cost of a swim spa changes significantly depending on its quality and features, with the up front price tag ranging anywhere from a few thousand, to tens of thousands. Opting for the lower figure might be tempting, but there are risks involved with buying a cheaper swim spa.
What should I consider before buying a swim spa?
A fundamental part of your decision-making process will involve choosing the right location for your swim spa. Firstly, youll need to select an area with a foundation thats strong enough to hold the weight of your swim spa when it's in use. Your supplier should give you a clear indication of what this weight will be, with the typical wet weight of a swim spa being between 5700 kg and 6850kg.
In addition to the foundation, its vital that the chosen area provides secure and safe access to both power and water. A qualified professional will need to confirm area suitability and safely hook up the power source once the swim spa is delivered. At mySpa Sydney, we have fully licensed electricians, so, we can ensure that this process is done correctly.
To enhance safety even further, you are also required to get council permission before you begin to install. Accordingly, under the NSW Swimming Pools Act 1992, which states that pools filled with over 2,000 litres of water, including all swim spas, must gain council development approval before installation. This initial approval generally costs around $110. Similarly, the same act requires you to install a child-resistant barrier which can cost you anywhere between $100- $2,000 depending on the size, location, and type of barrier you select.
How much does it cost to get a swim spa delivered?
Once you've gained the necessary consent and approval, you can start organising for your swim spa to be delivered. While some suppliers require you to arrange this yourself, the team at mySpa Sydney will work with you to establish an effective delivery process.
Typically, due to the heavy nature of swim spas, they will need to be lifted by crane onto the desired location. The price will vary depending on what crane and manpower your spa requires.
At mySpa Sydney our team is very experienced in structural landscaping, landscape carpentry and outdoor spa installations. We have a wealth of experience from completing hundreds of jobs throughout the last 12 years. Weve worked with budgets of $1,000 right up to $400,000 throughout the years and we pride ourselves on getting the best outcome for our clients.
Where should I install a swim spa?
Dependent on what areas meet the requirements, you can opt to have your swim spa installed outside or inside. As most people enjoy spending time in the fresh air, swim spas are often installed above ground in the backyard. This location choice is the quickest to install and helps to achieve the desired 0.5-metre clearance around all sides of your swim spa. In the case of any future maintenance, having this space allows for the swim spa to be easily accessed.
Likewise, if you are thinking of surrounding your swim spa with a deck or building a paved area or pergola, our experts will do their best to find the most effective landscaping option within your budget.
Although an outside location is often ideal, you may prefer to have your swim spa installed inside. If this is the case, youll need a room that has an efficient ventilation and drainage system, as well as non-slip waterproof floors. Indoor installations, however, are generally easiest if your house is still under construction. If you want to install your swim spa in an existing space, this is only possible if there is a large opening such as a patio or garage door.
How much does it cost to heat a swim spa?
While running a standard swimming pool can cost around $800 - $1,200 annually, a swim spa uses much less electricity. Your power bill may be more expensive than you anticipate however, if you opt for a cheaper swim spa with poor insulation.
What are the maintenance costs of swim spas?
Traditional swimming pool maintenance can be extremely time-consuming, whereas swim spas are relatively simple to keep clean. The ease of maintenance is especially enhanced if you have invested in a high-quality swim spa with an advanced purification system. Rather than frequently having to renew the water, mySpa Sydney will provide you with an easy water care plan that considers your personal use.
Similarly, any potential maintenance is made easy with our life-care warranties and locally manufactured parts, which means you wont have lengthy delays on repairments.