How aquatic Exercise with Swim Spas helps improve your fitness
15 Jun, 2018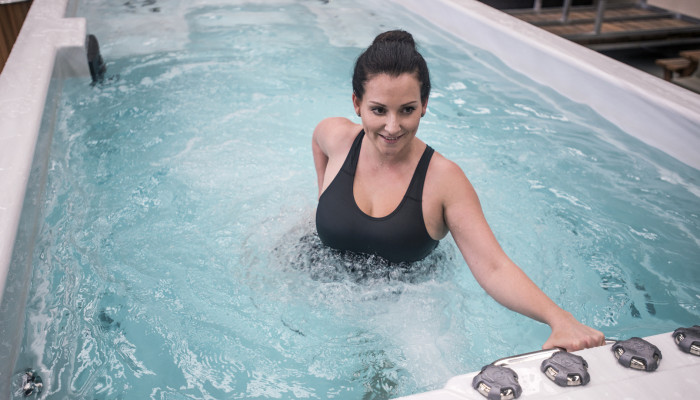 Swim spas have introduced safe and sound private swimming environments where one can easily perform aquatic exercise for fitness purpose. The joint functionality of portable spas and swimming pools allows you to experience swimming as well as provides therapies for pain reliefs. It also strengthens and tones your body.
Swim spas are uniquely designed for water workouts which depends on swim spa size with range of features that can be used to regulate moderate to intensive workouts. Whether you want to start with walking, running or you want to do heavy exercises in the water, swim spa serves you best with extra privacy for your comfort. You are now able to achieve effect of swimming in small volume of water with swim spas which is cost effective and are convenient.
Types of water workouts you can perform with swim spas
Warm up


Before you actually begin to do something, warm up is quite important. So, before you begin you actual workout, with Swim Spas, you can first dive into relaxing your body muscles and releasing tensions. Along with balancing your body temperature with that of water you can start to stretch your muscles to increase the flow of blood into your muscles. Generally 10 to 15 minutes warm ups are good practice to prevent injuries and obtain best output. You can perform light walking, jump lunges, kickbacks and jogging. Feel the water around your body and you can gradually increase the intensity of workout.

Workouts


Beginner and Moderate Workouts


If you are beginner, this is a great way to start aquatic exercise in swim spas. You can perform workouts like running. The blood will start circulating as you perform this against the current of water and enhance this, you can also use buoyancy belts or resistance bands against rowing bars. This helps you to perform exercise with you hands and legs. Gentle yoga followed by water aerobics is also good exercise for cardiovascular benefits.

Intensive Workout


Intensive workouts in swim spas are specially suited for athletes for resistance building, calorie burn, strengthening and increased flexibility. With jets running for resistance you can perform fast swimming. You can perform water weightlifting exercise by using dumbbell water weights, buoyancy cuffs, dragging balls or kickboard. To increase strength of your upper body, you can also use paddle wheel.

With swim spas you purchase, you can perform various acqua workouts that best suits you as per your convenience. MyspaSydney Swim spas offers you extensive range of spas in Australia including outdoor spa sydney and portable spas. So, why not call MySpaSydney today and find the swim spa that best fits you in improving your water workout experience at your own personal space! Call Now!