Planning Your Swim Spa Installation
07 Sep, 2018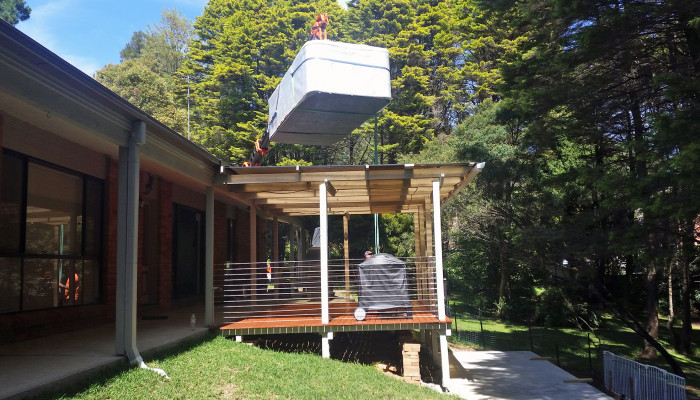 Getting your very own swim spa is an exciting experience. Imagine: you can finally enjoy the benefits of hydrotherapy and swimming right in your backyard, deck or sunroom. Still, like any other major addition to your home, installing a swim spa needs thorough planning and preparation.
Feeling a bit daunted? Don't worry. Planning your swim spa installation is easy. Here are a few things to consider when planning your swim spa installation:
Location, Location, Location
Location is crucial when planning your swim spa installation. First off, you have to make sure that the area is level and sturdy enough to support your swim spas weight. The ideal location should have ample space to accommodate the spa and other features that you might want to add later. Youd also want it to have easy and safe access to both power and water sources.
These factors will ultimately determine where your swim spa will be installed. Once youve got a couple of spaces that fit the criteria, its time to consider your personal preferences.
Indoors or outdoors?
Many folks like to spend their free time outdoors, so most swim spas are installed in the backyard or deck. Here you can enjoy swimming or lounging in your swim spa under the sky. If you want to install your swim spa outside, make sure to obtain the necessary permits beforehand. Consider landscaping and decorating the area accordingly, too--- youd want your swim spa to complement its surroundings.
If youre keen on an outdoor swim spa, dont install it directly under large trees to avoid falling leaves and other debris. To ensure privacy, you might want to build a nice fence or tweak the arrangement of plants around the area.
On the other hand, some people want to enjoy their swim spas from inside the house. Sunrooms are a great option since it allows you to enjoy the warmth of the sun while still being protected from the elements during the harsher months. Still, others prefer to have a smaller swim spa installed inside an existing room.
Depending on the available space, you can also choose to have a recessed swim spa or a raised one. Ultimately, the choice will be up to you.
Accessibility and Ease of Use
Whether youre planning an outdoor or indoor spa, make sure you can access it with ease. Plan accordingly so your swim spa is near changing rooms and supply closets. When its time for routine maintenance checks and repairs, make sure that the handyman or technician can access the area easily.
For all enquiries regarding swim spa installations contact us or if you wish to have a further read, look at our installations page.