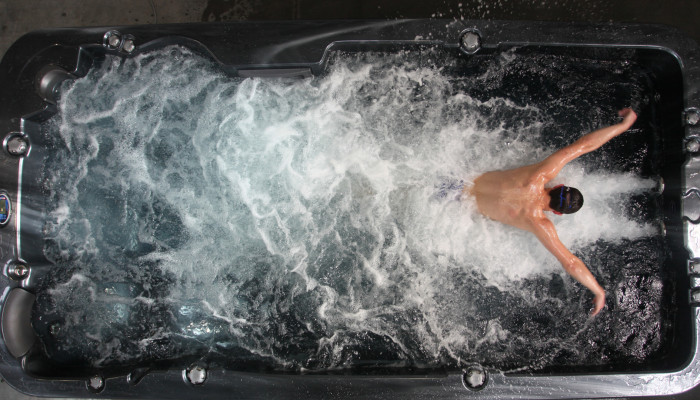 Having your own pool comes with many benefits. Spa pools for example are perfect for relaxation, relieving tension and providing many other health benefits. A swimming pool however, provides entertainment for the kids as well as an area for exercise and water-based resistance training. So what are your options if you want the benefits of both?
Buying a spa pool is simple, but you cant exactly do laps. A swimming pool on the other hand is a lot more expensive to install, and takes up a lot of space in the backyard. If only you could have the convenience of a spa pool, with the ability to swim in it...that truly would be the best of both worlds. Well your wish has been granted. A swim spa serves exactly that purpose!
So whats the difference between spa pools and swim spas?
Spa pools
Spa pools are heated and jetted pools, usually placed on an outdoor patio or deck. They come in a myriad of different sizes depending on your preference. Spa pools generally have seating on all sides of the spa pool, facing into the centre. If youre looking for quality time with your small family, or a relaxing soak with a significant other, a spa pool like the
mypartner
is the perfect choice. Its a cleverly designed, space-saving spa with all the bells and whistles that can seat three people comfortably.
On the other hand, if you want to enjoy the company of all your friends and family you can go with the
myparty
which seats up to 10 people at a time! These spas can be used for relaxation, massaging your muscles, and spending time with loved ones. It can act as a social hub, improve your overall health and wellbeing, and even help you sleep.
Swim spas
Swim spas are similar to spa pools but have one huge benefit: you can swim in them! They use fully adjustable swim jets at one end to create a current that you can swim or walk against. You can get a full body workout while staying in one spot! Swim spas are a bit larger and deeper than spa pools, but far smaller and less-expensive than a swimming pool. Swim spas are designed to offer the best parts of both.
How do swim spas work?
Swim spas have a seating area with standard spa jets on one side of the pool, with a larger space for swimming and fully adjustable swim jets on the other side. The swim jets provide currents in the water for you to swim against, and can provide you with a variation in the intensity of your workout. A swim spa gives you the opportunity to swim, water walk, or do pool-based resistance training, in the privacy of your own home. Its suitable for people of all ages: from young children learning to swim, to older folk looking to retain stamina and flexibility.
If you love swimming but dont have room for a pool, or dont want to deal with the maintenance and cost that comes with them, then a swim spa is the ideal choice. Youll even have a spa pool to relax in after your workout! Swim spas are easier to set up than a full swimming pool and will cost you much less in both time and money.
Health benefits of swim spas
Achieve the health benefits of hydrotherapy and massage right at home. There are jets positioned along the thighs, calves, feet, and legs to help relieve tension in your major muscle groups. Exercising in water also improves your stamina in land based activities, and the pressure is fully adjustable for any training or fitness goals.
Swim spas provide all the benefits of a regular spa along with the perks of a swimming pool. Its your own personal aquatic gym, as well as a relaxation station - all in the privacy of your own home. Relax without getting splashed! Swim spas have the extra space so that children can play while you enjoy the therapeutic aspects of the spa section. Its easy to move and maintain, and open for use 365 days a year.
If you and your small family or partner are the only ones going to be using the swim spa then the myswimgym is perfect. It can seat three people comfortably, and has a range of feature options available. As well as keeping you fit through swimming, a swim spa gives you the opportunity to relax. Its a gym and pool in one package. After your workout gets interrupted by the kids jumping in, you can retreat to the hot seat for a full body massage.
If youre looking for fun for the whole family and even more room to swim, then the mylapswim is for you. This swim spa can hold up to 12 people at a time! Swim spas provide you with a great aquatic exercise option in your home. If the public pools are closed or its too cold to head to the gym, youll always have your swim spa to use at home.
What next?
Come test out a spa for yourself! We have a private area with a changing room and shower where you can come test out some of the spas for yourself. We have over 15 years experience and can do everything needed to get the spa from our showroom to your installation location. We can help find the right spa for you and your family.
Make an appointment with us today in-store, or call us on 02 8850 6550.