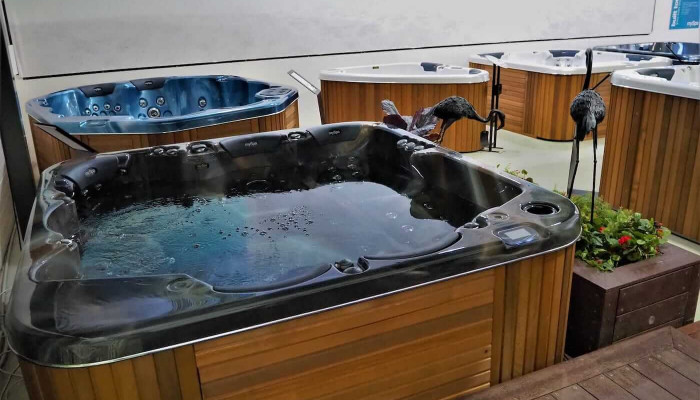 Buying a spa is a very exciting process. There are so many types to choose from with a range of different features. Buying a spa is also a fantastic purchase as it'll help improve your health. The massage provided by the powerful hydrotherapy jets assists in improved circulation, quality sleep, muscle recovery and is a natural way to enhance the body's natural healing processes. At mySpa Sydney we recommend having a test dip before buying a spa, as it is one of the best ways to find the perfect spa for you. To ensure you get the most out of your hot tub, here are some tips on what to look for when buying a spa or having a test dip.
What do I look for when buying a spa?
Firstly, it's important to remember that you and your family are the ones that are going to be using this spa. Therefore take into consideration the purpose you're going to use the spa for and the experience you're wanting to get out of it. What you're looking for may not be what someone else is looking for when buying a spa. It all depends on your circumstances and situation. Think about your backyard space, how big you want the hot tub to be, whether it will fit in the landscape, how many people you want it to hold, whether you're using it for relaxation or socialisation or both. This is why a test soak in a spa is recommended so you can get the real feeling of what you'll be getting yourself into. Every spa looks great but you won't realise the differences and what works best for your body until you have a test dip yourself. Also check if the spa is compatible with your favourite spa accessories.
Breakdown of things to look into before buying a spa
Seating
One of the most important things to look for when buying a spa is the seating. The type of seating preferred will be different for every person. It will depend on how many people you're expecting to use the spa at once. Also, think about whether you like having your own moulded seat or a spa with more wide open space. When having a test dip, switch seating positions to try out what feels right for you. If children are going to be using the spa, check if the seating accommodates both adults and children. When you're having a test soak, note the torso depth when you're sitting and figure out where you want it. Do you like it over your shoulders or at another level? Are there options for different types of massages in different seats for different areas of the body?
Jets
When buying a hot tub, remember to check the jets. Look at the jet types, the placement and how powerful they are for your needs. Explore whether the jets are placed in areas you need them the most. For example, do you want them to hit your shoulders, your back, your legs or your feet? This will also depend on what type of spa experience you're looking for. Figure out if you want a massage out of the spa or just the heat experience.
Read more What Temperature Should My Spa Pool be at and Why?
Controls
When you're in the spa you want to feel relaxed and let the spa perform its magic. At mySpa Sydney, we have the mySpaLINK module and 'app' that allows you to connect to and take control of your spa. You can do this locally or remotely via a WiFi, 3G or 4G network. This will provide access to your spa from any location at any time. You have complete control over all spa accessories such as pumps, air blowers and LED spa lighting effects via your smart device. With simple to use touch screen menus you can make adjustments to the spa temperature, selecting your desired heating mode, programming filtration, sleep or power save timers.
Read more Must-have accessories for your spa pool in 2020
Noise
Another key thing to look into is the noise. How much noise does the spa actually make? The best way to find this out is by having a test dip before buying a spa. Everyone has different tolerances for noise, make sure you get one that makes no loud noises when the water is heating, filtering or circulating. Afterall, you're buying a hot tub for relaxation and the last thing you want is unwanted noise that takes away from that.
Smell
Also remember to check whether the water has any associated smell. That's the last thing you want when you're trying to enjoy the hot tub after a long day. Again, you can find out whether it has any smells by taking time out to have a quick test dip before buying the spa. Make sure there's no chlorine smell or skin drying chemicals either.
Read More How to Keep Your Spa Pool Water Cleaner for Longer
Water
This one may seem obvious, but remember to look into the water. Make sure it's clean and clear. Also check how your skin feels in it. Are you feeling any dryness or reactions? Having clear water should be a priority.
Energy ratings
When buying a hot tub, consider the energy ratings. An efficient and well-insulated hot tub can save you money in the long run. The cost of running your spa and its ability to retain heat are linked. Therefore, find out about the insulation and running costs of your spa.
Read More Tips for Using a Spa in Winter
Warranty
At mySpa Sydney, Sapphire Spas 'quality controlled' manufacturing practices allow us to offer you a 'lifecare commitment'. This promise guarantees that we will service your spa pool for as long as you have it. As an all Australian, locally designed and manufactured spa brand, we offer you many benefits, you can download full warranty details here.
At mySpa Sydney we can help you find the right spa for your needs. We recommend a test dip before buying a spa. We have a private area with a change room and shower, perfect for testing our spas. Book a dip now!