Tips for Using a Spa in Winter
08 Jul, 2019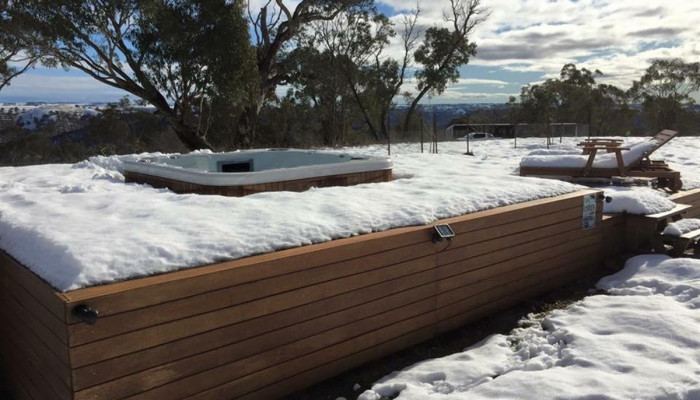 Nothing beats a relaxing soak on a cold winters eve. As you feel the temperature drop outside, let your spa pool be a warm haven for you, your friends, and your family to enjoy.
Although spa pools offer a perfect escape during the colder months, many spa owners miss out on these special moments due to concerns over increased heating costs. To help you make the most of your spa without a massive expense, here are our top tips for using a spa in winter.
Benefits of using a spa in winter
After a hard day, soaking in your spa pool can be extremely comforting. Feel yourself relax as you submerge into the soothing warm water. Through a combination of heat and buoyancy, your body will release any tension and leave you feeling ultimately relaxed.
Likewise, as winter brings in the colder weather, your joints and muscles are more prone to feeling stiff and achy. A dip in your spa pool can help to relax your muscles and reduce the pain. You may also find that youll become more motivated to battle the cold and workout, as the idea of a warm soak waiting for you afterwards will help to get you moving. Your
muscles will certainly be thankful for your spa pool.
Winter is also, unfortunately, a time when people often develop colds. To minimise that awful congested feeling that comes along with them, a warm soak will help to clear your sinuses.
These warm temperatures will also boost your immune system by increasing your bodys temperature. Plus, the aftermath of having your body cool down will keep you in a relaxed state, helping to ensure a good nights sleep.
With all these benefits in mind, you may want to share your winter haven with some of your close friends. Although the chilly weather might put a temporary halt on backyard BBQ nights, let yourselves continue to share many laughs over a relaxing soak.
Tips and tricks to running a spa in winter
To avoid having to spend large amounts on heating your spa during winter, its essential to have a
lockable high-density hardcover
. The cover will stop the heat from escaping and have your spa staying warmer for longer.
Youll also find that your electricity bill will be lower if your spa itself is well-insulated with a heat lock system. Such systems allow the spa to operate in the most energy efficient manner.
Another trick for keeping your spa warmer for longer is to reduce your jet use. As jets pump outside air into the pool, extensive use can decrease the temperature of the water. Rather than having the jets operating non-stop, its best to lower their power or turn them off once youve finished your soak. This task will be made easy if your spa has remote control options.
At
mySpa Sydney
, all our features are linked to the
MySpaLINK app
, which allows you to control your spas features such as their pumps, from wherever you are.
Winter spa maintenance
In addition to keeping the water warm, its essential to make sure it stays clean. By following the water care plan given to you by your spa manufacturer, you can ensure that the chemicals remain at appropriate levels. Even if you decide not to use your spa this winter, its still a good idea to check the chemicals weekly. If you dont, youll likely end up spending more money on maintenance in the future. To avoid dirt or leaves entering the water, its a good idea to wear sandals when walking to your spa.
If your spa is due for a water change, try to arrange this before the winter months. Changing the water when its colder can risk the chance of both the water and the components freezing, which will potentially damage your spa.
This damage can also occur if you let your water levels get too low. Therefore, make sure to keep an eye on them and top up when appropriate.
Winter-related spa accessories
As the sun sets much earlier in the winter months, venturing out to your spa in the dark might not sound overly appealing. Instead, of missing out on many relaxing soaks, adding accessories or decorations will help to make your spa pool feel like the winter haven it truly is.
Such accessories could include lanterns, fairy lights or heat lamps. Just make sure that any electrical devices are designed for outdoor use and arent positioned too close to the spa itself. If youre uncertain, check with a qualified electrician.
As the air becomes brisk, people also often dont like the idea of hopping in and out in the cold. To make this process more enjoyable, you may want to invest in a
cover lifter
, that makes removing the cover of your spa a quick and easy task. Having a towel rail near the spa will also ensure that no one has to do a freezing dash back inside.
For those winter soaks with friends, a spa caddy or smart bar is an ideal accessory to have tea or water ready to be enjoyed by you and your guests. It is advisable to avoid drinking alcoholic beverages in the spa pool.
Winter safety tips
Having fluids at hand is also a vital safety measure to avoid dehydration that may be caused by the spas heat. Rather than risking getting light-headed, have some water at hand and sip regularly throughout your soak.
Similarly, it can be very tempting to lounge in a hot spa for hours. As relaxing as the warmth is, we suggest spending a maximum of 20-30 minutes in your spa. Although increasing your body temperature has several benefits, the longer you soak, the higher your body temperature can climb. When hopping out, its best to make sure you have your towel or robe close by to save your body suddenly being shocked by the cold.
We hope that this has helped you realise that running your spa pool in winter is far from a burden. By following these tips and tricks, youll soon be enjoying a winter escape in your own backyard.
For further information, dont hesitate to call us on 02 8850 6550, or see us in store at Unit 4-10, Hudson Ave in Castle Hill Sydney.