Must-have accessories for your spa pool in 2020
13 Jul, 2020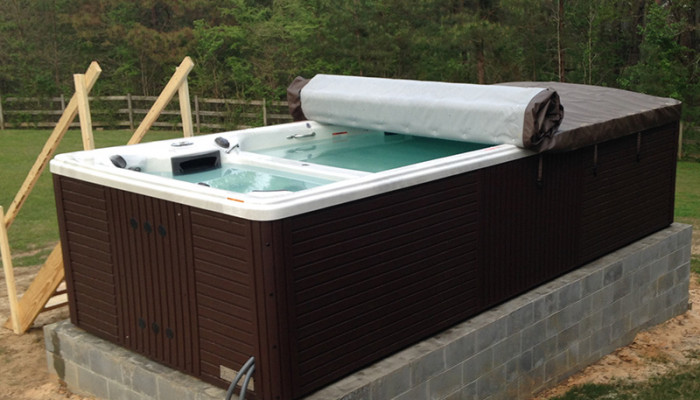 If you are looking for ways to take your spa pool experience to the next level, adding some accessories is the answer. It doesn't matter whether you're having a party or night in with the family. At mySpa Sydney we have a range of must-have spa accessories that'll not only increase the comfort of your spa but also turn the fun levels up a notch. From enhancement accessories to spa access accessories, there's something for everyone.
Enhancements accessories
Its time to make your spa the hub of entertainment for 2020. These are all the fun spa accessories.
Spa Pool Smart Bar
At the top of the fun spa pool accessories list is a spa pool smart bar. It comes with a standard smart drawer where you can store your belongings such as phone or keys to avoid getting them wet. The table also has a slip-resistant tread perfect for placing all your drinks and glasses. You have the option of installing it as a permanent accessory or removing it whenever you like.
Spa Umbrella
If your'e looking for shade or protection from external factors such as rain or sun, a spa umbrella is a must-have spa accessory to keep you covered. It not only adds an element of style to your spa pool but is also durable in different weather conditions. The umbrella usually covers a nine-foot area from sunlight. It's easy to tilt with a 360-degree rotation and a crank handle which you can control with one hand.
Towel Bar
Being around water, a must-have spa accessory is a towel bar. It helps keep your towels close yet dry and away from the water at the same time. It'll still be in your reach when you get out of the hot tub so you can dry yourself off before entering your house. That makes it one of the must-have spa pool accessories for winter as it'll keep you warm when you get out of the spa pool. When youre not using it you can fold it flat against the side of the spa.
Read More Tips for Using a Spa in Winter
Spa Cover Lift
If youre looking for fun spa accessories look no further than the cover lift. At mySpa Sydney we recommend CoverMate 1 and CoverMate 3 as the best cover lifts. Both use quality materials, are easy to install, fit most spa pools, and have a TowelMate which holds up to three towels. A cover lift makes it a lot easier to open and close your spa, making it one of the must-have spa pool accessories.
Spa Caddy
Its time to add a spa caddy to your hot tub accessories list now. It has enough room for you to place all those hut tub supplies such as your food, drinks, phone, or keys. The spa caddy is a polymer tray on an aluminium post. You can easily pull it towards you in the spa or push it away, making it easier for you to have all those must-have items by your side. It mounts quickly on most spas. Whether youre in winter or summer this is one of the fun spa accessories.
Read More What Not To Do When Using Your Hot Tub
Spa access accessories
Accessibility improves your spa pool experience. With these spa pool accessories, you'll get to make the most out of your spa pool.
Steps
If you need help getting in and out of your spa you can add some steps to your hot tub accessories list. At mySpa Sydney we have the SwimSpa Step 3 and SwimSpa Step 4 available for you to choose from. The steps are offered in a range of tread/trim colours, giving you the freedom to select one that matches your aesthetics. The steps have slip-resistant rubber treads for safety and an optional handrail. Steps will provide you with extra safety and support to enter your spa. If you have children, adding steps to your spa will give you peace of mind knowing their safety is being taken care of. It's also beneficial for those who have deeper swim spas as it gives you the extra elevation to access your spa.
Smart Rail
A smart rail is one of the must-have hot tub accessories. It'll make the whole process of entering and exiting your spa pool easier. The smart rail will help you prevent accidents such as slips which are common where water is involved. It has a rust-free powder-coated aluminium and a foam grip for comfort and safety. Once its installed, you'll never look back knowing your safety is being looked after with one of the best spa accessories available.
Read More How to Keep Your Spa Pool Water Cleaner for Longer
The importance of spa maintenance
Maintaining your spa pool is crucial for long term health for your family and for the longevity of your spa. Spa maintenance is important to keep your water clean and the spa operating how it should. Spa maintenance involves regularly cleaning the cover and filter of your spa. It also involves checking the chemical levels and adding the right chemicals as needed. If you don't check and maintain the right chemical levels then your spa equipment might corrode. This can happen if the chemical levels are too high and bacteria can also take over if the chemical levels are too low. Simple things such as keeping your spa cover clean will help keep your spa protected and operating for longer. Make sure to do weekly and monthly maintenance checks depending on how often you use your spa pool, or ask mySpa Sydney about our service maintenance plans.
Read more What Temperature Should My Spa Pool be at and Why?
At mySpa Sydney were here for all your spa needs and spa pool accessories. Check out our full list of hot tub accessories. If you want to know more about any of the hot tub accessories mentioned contact mySpa Sydney on 02 8850 6550 or contact us online.