Looking for Spa Parts in Sydney?
17 Jan, 2021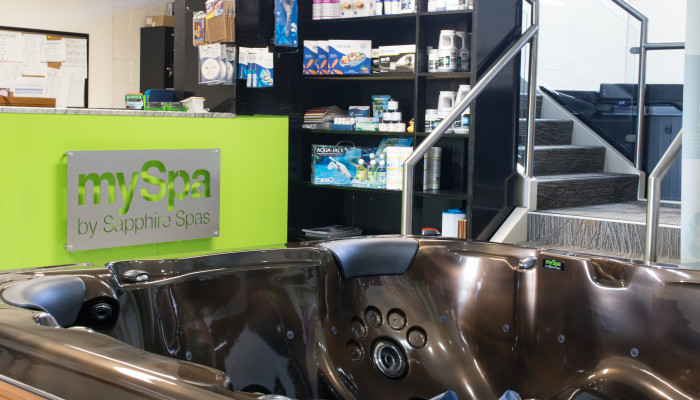 Just like any product, spa pool wear and tear is inevitable. Although higher-quality models are designed to last, it's important to be aware of what spa parts may eventually need replacing—and know where to find them.
Where to Find Spa Parts in Sydney?
To be confident that the parts you're purchasing are right for the job, make sure your spa dealer knows their stuff.
At mySpa Sydney we're proud to say that with over 16 years experience, a high-quality support network, and an ongoing partnership with Sapphire Spas, you can count on us to be your one-stop-shop for all things Sapphire spa-related.
Using our broad range of expertise, we can help you with everything from installation, structural landscaping, maintenance, and, of course, sourcing replacement parts.
By offering a full range of services, our customers can avoid the hassle of contacting various companies for different jobs (who may not all be on the same page). Likewise, as our Sapphire Spa Range is designed and manufactured right here in Australia, you'll never need to wait for parts to arrive from overseas or attempt to battle the time zones to reach technical support.
What Spa Parts Need to be Replaced?
Depending on the model, amount of use, and how well the spa is maintained, your replacement requirements will vary. Products such as filters and spa chemicals will need to be purchased more regularly to keep your water clean. Check out "How to Keep Your Spa Pool Water Cleaner for Longer".
Other parts, such as jets, pumps, and hardcovers, should only need to be replaced after long periods of time. Keeping in mind that a good quality spa will usually require fewer repairs compared with a cheaper low-quality model. Read our article "Why a Cheap Spa Pool Will Cost You More in the Long Run".
Filters
Spa filters are made to trap the unwanted debris that pass through the water. If your filter becomes blocked, it compromises the cleanliness of the water and can put a strain on the pump.
Instead of risking a dirty soak, you should aim to give your filters a light clean every two weeks, alongside an overnight soak every three-four months.
To complete your fortnightly clean, simply remove the filters and spray them with a garden hose before placing them back in the spa. For the more in-depth quarterly clean, soak your filters in a bucket overnight using a spa-specific cleaning agent.
To avoid damage to the filters, never use household cleaners, muriatic acid, or dishwashers to do the job. If you're unsure about what cleaning product to use, have a chat with your spa dealer.
By properly caring for your filters, they should only need to be replaced every 12 months. As spa pool filters can be different, please contact us to make sure you have the right one for your spa, or pop into the showroom to collect a replacement. Once you have the new filter, remove the old cartridge, replace, and you're good to go!
Spa Chemicals
Another regular product you'll be using as a spa owner is spa chemicals. To ensure that your water chemistry is safe for soaking, you should be familiar with the details in the owner's manual. Once again, if you're in doubt, contact your spa dealer.
Although you may spot cheap chemicals in elsewhere that look like they'll do the job, this usually isn't the case. Low-cost chemicals generally aren't designed to match the function of a spa pool and could result in damaging your spa, your skin—and harming others who enter the water.
Instead of putting your safety and spa at risk, it's best to purchase high-quality chemicals through spa experts and licensed dealers. Our team at mySpa Sydney are more than happy to show you what chemical products will work best for you.
Jets
Now, let's talk about one of the most-loved parts of a spa pool—the jets. The massage jets in your spa play a vital role in achieving ultimate relaxation and helping to provide some of the great benefits of hydrotherapy.
To keep your jets in top shape for longer, it's recommended to give them a clean every few months to remove any dirt build-up. To do so, remove the jets and soak them in a bucket of warm water. If you notice your jets start to fade in colour or become chalky, it is likely due to your chemicals and could be the wrong type, too much or too little, contact your spa dealer for assistance.
You'll also want to have a chat with a spa expert if the jet pressure starts to drop.
Pumps
Your spa relies on the pump to power the jets as well as circulate water through the filter and heater, which means it could also be the cause for low jet pressure.
Before considering buying a replacement, make sure to inspect the pump for any debris that may be blocking the water movement. If you can't see any debris, the pump may be damaged from normal wear and tear. If you're unsure, please contact your spa dealer.
You should also seek expert spa advice if your spa starts to make an abnormal sound (which could be coming from the pump).
Hardcovers
With good maintenance, your spa cover will usually only need to be replaced every 5-7 years. When it is time to buy, make sure that you've identified your spa model or measured the size of the spa (with exact dimensions).
You can prolong the life of your hardcover by cleaning it regularly. To do so, rinse the cover with a garden hose and sponge down any remaining debris or dirt. As with any other spa part, don't use household cleaning products or dishwashers to complete the task.
mySpa Sydney is Ready to Help!
Whether you require a replacement part, an authorised technician, or just want to have a chat about Sapphire spas—our team at mySpa Sydney would love to help.
Simply, fill in a Service Request form, and we'll get right on the job.
You can also call us on 02 8850 6550, email us at info@myspasydney.com.au, or visit our showroom at Unit 4-10, Hudson Ave, Castle Hill.
You may also want to check out, "When Is My Spa Too Old To Repair?"