Four Fantastic Reasons to Own a Swim Spa
22 Dec, 2017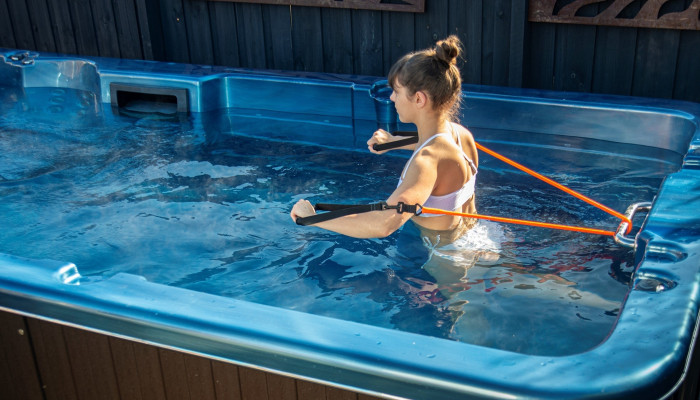 Swim spas, also known as endless spas, are growing in popularity, and for good reason. A cross between a mini swimming pool and a hot tub, swim spas were originally used by professional athletes for training. They have powerful, fully adjustable swim jets at one end of the pool that provide a current strong enough to swim against. Theyre like a treadmill for swimmers! You can swim all you like, but remain in one spot. At the other end of a swim spa, you have classic seating and spa jets that youd find in a standard spa or hot tub.
Today more and more individuals and families are investing in swim spas due to the practical benefits they offer. For starters, those who like to exercise every day love the ability to swim or engage in water-based resistance training at home. A swim spa also provides an excellent environment for families to bond or de-stress, and offers days of bathing pleasure all year round.
MySpa Sydney
offers homeowners a wide range of spa options to choose from, both in terms of form and function.
If you're thinking about investing in a swim spa, then this article for you. Here, we share some great reasons to have your very own swim spa at home.
Less Space Required
Perhaps one of the most attractive and practical benefits to owning a swim spa is that unlike traditional swimming pools, swim spas are much easier to install and can conveniently fit into smaller spaces. This makes it the perfect option for homeowners who would like to enjoy the benefits of a pool but do not have enough space to construct or install a pool in their yard.
The compact size of a swim spa also means that it is easier to maintain, drain, and clean, helping owners save both time money.
Swim spas from mySpa Sydney
are available in various sizes and can accommodate anywhere from three up to 12 people, so you will surely find one that suits your needs. Swim spas are also portable, meaning you can take them with you if you ever move house. You cant do that with an in-ground pool!
Safe, Private Swimming Space
For athletes or individuals looking to practice and improve their sports techniques or simply want to enjoy a peaceful swim, a swim spa offers just the right environment. No need to drive to a swimming facility or line up to swim laps--you can slip into the water instantly and workout in your private space. Some swim spa models are also equipped with settings that let users adjust the water pressure to allow swimming at set speeds. This is highly beneficial for athletes who are preparing for a competition or race as it helps in building pace and stamina.
In-Home Exercise
A swim spa gives you your very own aquatic gym at home. Youll soon find it easy to squeeze some exercise into your busy schedule. Adjusting the speed and direction of the swim jets enables owners to control the range and difficulty of their exercise. From gentle water walking to intense swim training, a swim spa can cater to all ages and abilities.
For athletes looking to practice and improve their sports techniques or for those simply wanting to enjoy some peaceful exercise, a swim spa offers just the right environment. Theres no need to drive to a public swimming facility or line up to swim laps. Slip into the water instantly and workout or relax in your own private space.
Hydrotherapy
Swim spas arent just great for exercise, they are also a great source of comfort after a long, hard day. Immersing oneself in the warm water will quickly soothe minor aches and pains and the massage jets can also help reduce muscle tension.
Hydrotherapy has proven to be beneficial for people of all ages. Athletes and casual gym-goers use spa pools to relax and reduce tension, while older generations find that it helps them maintain flexibility and stamina. The combined benefits of relaxation and exercise make swim spas a unique investment in your health and wellbeing.
Safe & private swimming space
Any parent will tell you that its impossible to relax in a spa pool with children around. Kids want to play when theyre in the water, and that generally just means a whole lot of splashing. Swim spas solve this problem by having a large area for swimming that doubles as a childrens play area. Adults can relax on the spa side without fear of splashes, while the kids can wear themselves out running or swimming against the current.
A swim spa at home affords adults with a private area to relax, as well as a safe environment to teach their children how to swim. While kids might feel intimidated jumping into a larger body of water, swim spas allow you to practice swimming close to the sides of the pool. The adjustable swim jets mean that you can reduce the current with the push of a button, making it easier for the kids to get comfortable in the water.
Whether you are looking to invest in a swim spa for your health, your familys enjoyment, or both, the benefits of owning one are clearly worth considering. If youd like to know more about our range of spas, hot tubs, swim spas, or plunge pools in Sydney, please feel free to
contact us here at mySpa Sydney
, or simply call 02 8850 6550.