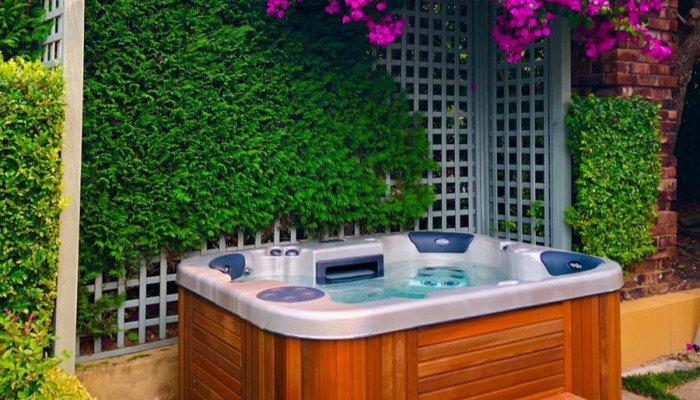 A portable outdoor spa is a great way to relax and socialise in the comfort of your own home. It can be located on any stable flat surface outside your home and is easy to move to your desired location. At mySpa Sydney we have some of the best portable spas in Sydney for you to choose from. Heres everything you need to know about whether you should buy a portable spa pool.
Are portable spas any good?
A portable spa is a spa that sits above ground. Portable spas in Sydney can be placed anywhere you like as long as its on a stable, flat surface such as a concrete slab. They are most commonly placed outside. Portable outdoor spas are good if youre looking for fantastic features, powerful hydrotherapy, simple maintenance, and plan on using the spa pool frequently. Plus, if you move house you can take it with you without any hassle!
Whether youre after a cheap portable spa or one on the higher end of the scale, at mySpa Sydney we have the best portable spas in Sydney for all purposes. If youre looking for something intimate, then the mypartner portable outdoor spa is for you. If you value space or want your spa pool to be the centre of attention then the myparty portable outdoor spa is calling your name. Make sure to check out our full range of portable outdoor spas to find the one thats right for you.
Read More What Not To Do When Using Your Hot Tub
Advantages and disadvantages of choosing a portable spa pool
Advantages
Easy to move
A portable swim spa is easy to move because its portable! If youre renting the current house youre living in and want to take the spa pool with you when you move then the portable spa pool is the way to go. On the other hand, if youre thinking about doing renovations around your house, buying a portable spa is an advantage as youll be able to move it easily. This way it wont get in the way of your project and youll still be able to enjoy using it.
Features
The mySpa Sydney portable spas have some pretty exciting spa features. The mySpaLINK module and app allows you to take control of your spa anywhere via a WiFi, 3G or 4G network. This includes control over things such as pumps, air blowers and LED spa lighting effects. You can make adjustments to the spa temperature, selecting your desired heating mode, program filtration, sleep or power save timers. Now that's taking the words portable spa to the next level!
Quick installation
At mySpa Sydney we pride ourselves on excellent workmanship, experience, knowledge, safety and the good up-keep of tools and equipment. We are here to provide the full-service installation of your portable outdoor spa in Sydney from start to finish. From the concrete slab to the delivery cranes, we take care of it all. Which means all you need to do is focus on enjoying your portable spa ASAP!
Improved Health
Using a portable outdoor spa also leads to improved health. This is through regular hydrotherapy treatments that'll help your body to relax and unwind. The massage provided by the powerful hydrotherapy jets assists in improved circulation, quality sleep, muscle recovery and is a natural way to enhance the body's natural healing processes.
Easy maintenance
A portable spa pool is easy to maintain as you can easily access all the machinery and equipment. Whereas with an in-ground spa, digging a hole may be required. Buying a portable spa pool from mySpa Sydney you can rest assured knowing your spa pool will be serviced locally. You won't need to wait for parts from overseas or time zones to coincide for technical support either.
Read More The Top 16 Benefits to Owning a Swim Spa
Disadvantages
Cleaning
It's important to remember that the filter cartridges need regular cleaning. It is recommended that you clean your spa pool filter cartridges every two weeks (more often when bather load is heavy). Filter cartridges should also be replaced every 18 to 24 months. The spa pool must also be drained every 3 to 4 months in order to maintain water quality.
Customisation
The portable spa pools are not as customisable in terms of size and shape. These are fixed. Depending on your situation you may also need portable spa steps to get in and out of your portable outdoor spa pool.
Read More How to Keep Your Spa Pool Water Cleaner for Longer
Accessories for a portable spa
Your portable spa pool experience isn't complete without a few Spa accessories.
Steps
Safety first! If you need help getting in and out of your portable outdoor spa you need steps. At mySpa Sydney we have the SwimSpa Step 3 and SwimSpa Step 4 available for you to choose from. They have slip-resistant rubber treads for safety and an optional handrail.
Towel Bar
One of the best accessories for your portable outdoor spa is a towel bar. It's handy having it by your side when you get out of the portable swim spa to wrap yourself up and dry off before heading indoors. While youre outside it also gives you a place to store your towels so they stay dry.
Spa Caddy
A spa caddy has enough room for you to place all those essential outdoor spa pool supplies such as your food, drinks, phone or keys. You can easily pull it towards you in the spa or push it away. It mounts quickly on most spas.
Read More Must-have accessories for your spa pool in 2020
At mySpa Sydney, we have a range of portable spa pools for you to choose from. Visit the mySpa Sydney showroom at Unit 4-10, Hudson Ave, Castle Hill or call us today on 02 8850 6550. In-store appointments can also be made after hours to fit into your busy lifestyles. We'll get you sorted with the perfect portable spa in Sydney!